August 01, 2014
Bleed For This Huge Announcement
July 12, 2014
Bleed For This News Coming Soon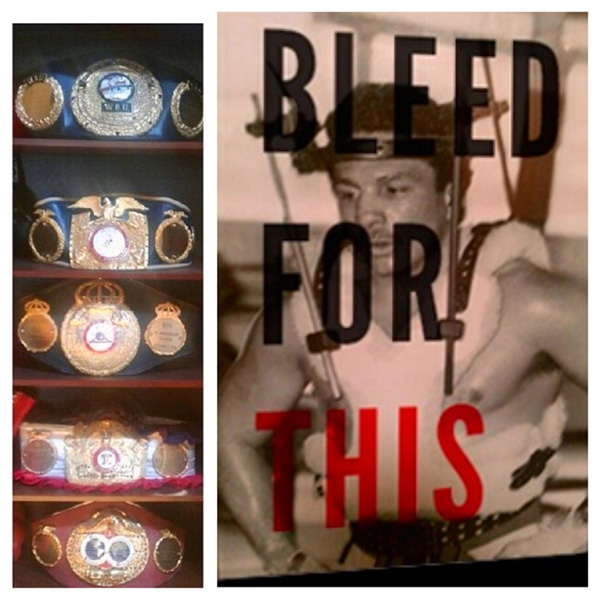 May 13, 2013
Scorsese Signs On For Paz Movie
Director Martin Scorsese has agreed to help produce a movie about the life of boxer Vinny Paz. Scorsese will be an executive producer on the project, which is being spearheaded Chad Verdi. Verdi bought the rights in 2009 to make the movie about Paz, the boxing champion who overcame a broken neck suffered in a car accident, to again fight for multiple world titles. Scorsese directed boxing film "Raging Bull," about the life of former middleweight boxing champion Jake LaMotta. Verdi says the movie is scheduled for release in 2016.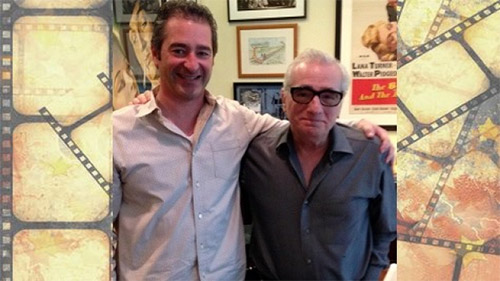 February 26, 2013
Vinny Paz Still Feisty At 50
Rhode Island boxer Vinny Paz recently talked about his life and career in a profile by Providence Journal columnist Mark Patinkin, in Sunday´s Rhode Islander section. "Everything I do," he told Patinkin, "I do big. That´s why I was a champion. Outside the ring I live the same. It´s good in the ring -- it´s not so good outside the ring." To view the complete article go to
www.providencejournal.com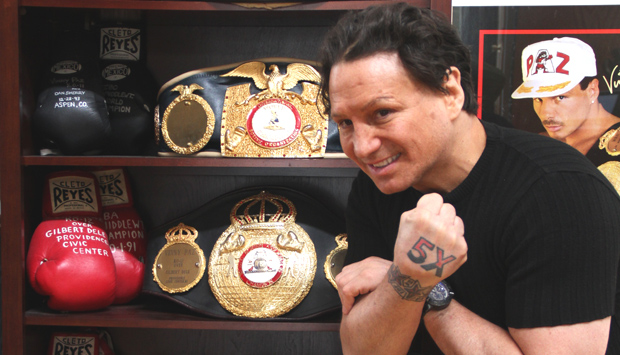 October 29, 2011
Vinny Paz Enters CT Boxing Hall of Fame
Five-time world champion Vinny "The Pazmanian Devil" Paz headed a distinguished list of seven inductees into the Connecticut Boxing Hall of Fame ("CBHOF"). The seventh annual gala induction dinner was held Saturday night, October 29 in the Uncas Ballroom at Mohegan Sun Casino in Uncasville, Connecticut.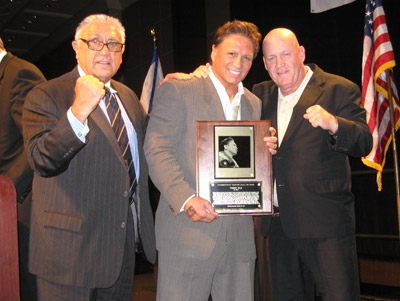 October 01, 2011
20th Anniversey of Paz vs Dele
20 years ago today on October FIST, 1991 Vinny Pazienza stopped champion Gilbert Dele in the 12th round last to take the Frenchman´s WBA junior middleweight championship in Providence, R.I. In claiming his second world title, Pazienza handed Dele his first defeat in 31 professional fights. Paz was awarded the WBA Championship ring for his win vs Gilbert Dele.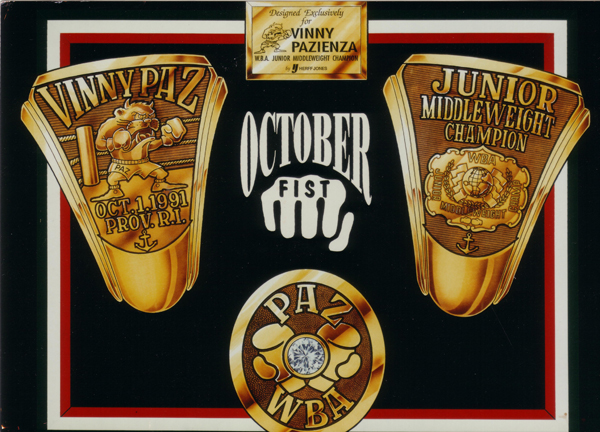 March 01, 2011
Fight Night Champion Released
EA SPORTS releases there newest installment of the Fight Night series. Here is Exclusive video of Vinny Paz vs his friend Peter Manfredo in Fight Night Champion for Playstation 3. Guess who won the battle of Rhode Island? Fight Night Champion has also been released for Xbox 360.
February 10, 2011
EA SPORTS Exclusive
The heavyweight champ of all video games has provided VinnyPaz.com with some exclusive images from Fight Night Champion which hits stores on March 1, 2011.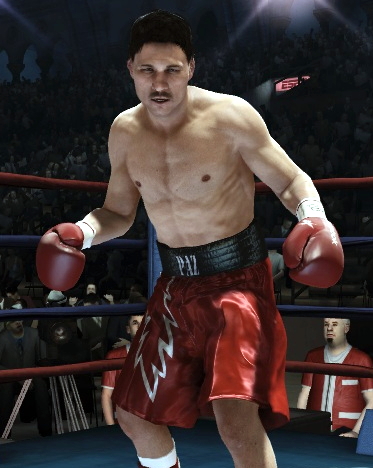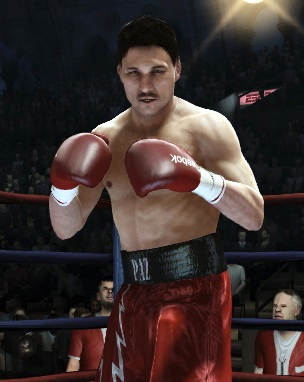 January 20, 2011
Vinny Paz Appeared on The Doctors
When the Pazmanian Devil was asked to make a surprise appearance on one of his favorite television shows The Doctor´s he jumped at the chance to visit Dr. Andrew Ordon star of The Doctor´s (plastic surgeon and reconstructive surgery expert) Dr. Ordon was Vinny Paz´s long time cut man and friend. The episode aired Febuary 4, 2011.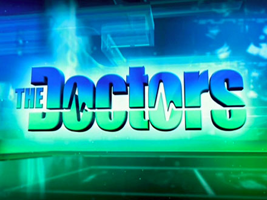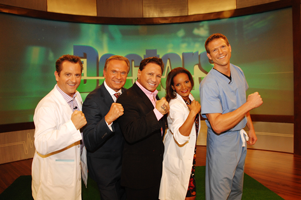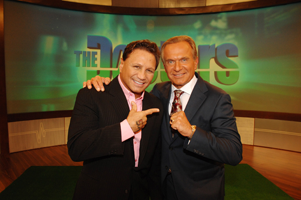 December 09, 2010
Vinny Paz Announced For EA Sports Fight Night Champion
Electronic Arts has announced Vinny "The Pazmanian Devil" Paz will be one of over 50 boxing legends featured in the video game "Fight Night Champion" which will be released in March of 2011 for Playstation 3 and Xbox 360. Paz's statement after the game was announced. "Last year "The Pazmanian Devil" vs. "The Raging Bull" was pretty cool but I can´t wait to see who I am going to fight now, I am excited to be working with the heavyweight champion of all video games EA Sports for a second time."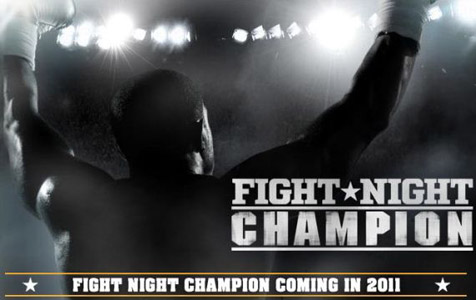 October 30, 2010
Vinny Paz TMZ Exclusive
The gloves are off for five-time world champ Vinny Paz -- we´re told sets of his autographed boxing mitts are making the rounds among collectors ... but according to him, the signatures are fake. The boxer´s rep tells TMZ, a New Jersey autograph dealer has been mixing the good with the bad -- i.e. selling authentic sports memorabilia alongside counterfeit crap -- and Vinny is one of his victims. The Pazmanian Devil has since been trying to get the word out -- warning potential collectors of the bootleg swag -- but we´re told the damage has already been done. According to his rep, Vinny´s lawyer is on the counter attack ... and will be firing off some vicious legal papers any day now. Calls to the alleged counterfeiter haven´t been returned.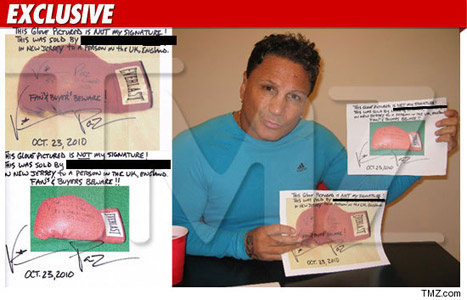 September 21, 2010
Angelo Pizzo Takes on Vinny Paz
Angelo Pizzo, screenwriter of sports dramas "Hoosiers," "Rudy" and "The Game of Their Lives," has signed on to write an indie biopic about boxer Vinny Paz, who came back from a broken neck to become a world champion. Producer Chad A. Verdi plans to shoot in Providence, R.I., next year. Paz, a Rhode Island native who boxed under the name "The Pazmanian Devil," is consulting. To read more visit Variety.com.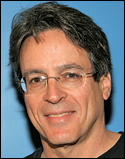 March 22, 2010
Peter Facinelli To Play Vinny Paz
Vinny Paz and film director Michael Corrente stopped by The Rhode Show to make a surprise announcement.
November 01, 2009
Vinny Paz Interviewed For Soco Magazine
October 28, 2009
Vinny Paz Appeared on The Jerry Springer Show As Celebrity Security Guard
The Pazmanian Devil was made an offer he couldn´t refuse. Vinny Paz made a trip into New York City to watch a live taping of Jerry Springer. While Paz was sitting in the crowd he was recognized by one of the Springer staff and was asked to join Jerry on stage as a special security guard for the taping of the show. Paz couldn´t say no.
October 03, 2009
Vinny Paz Roasted, In Addition $6000.00 Was Raised For The Impossible Dream
It was a special night for Vinny Paz but it was The Impossible Dream that came out that night with their hand raised. Paz donated his full appearance fee from Rhode Island´s Comedy Connection to his favorite charity The Impossible Dream. The Pazman has been working with The Impossible Dream for most of his career. To Learn more about making dreams possible check out www.impossibledreaminc.org


June 13, 2009
Vinny Paz Attends Smokin' Joe Frazier's Sportzbox Opening Weekend
Vinny Paz, Joe Frazier, Vincent Pastore, Joe Piscopo and many others attend the opening weekend of Smokin´ Joe Frazier´s Sportzbox at Bally´s Atlantic City on June 13, 2009 in Atlantic City, New Jersey.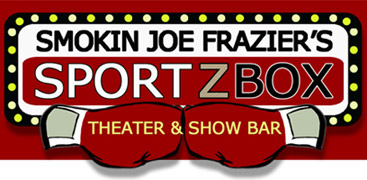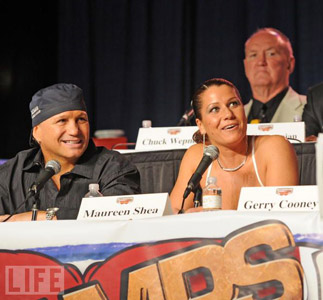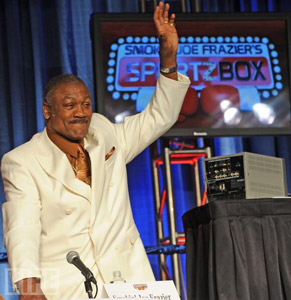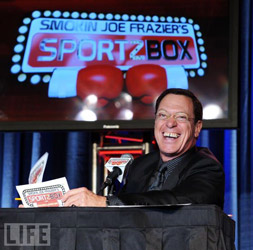 June 01, 2009
Screenshots and Video of Fight Night Round 4
EA Sports has just released some exclusive Screenshots and Video of Vinny Paz of the June 25, 2009 release of Fight Night Round 4 for Playstation 3 and Xbox 360.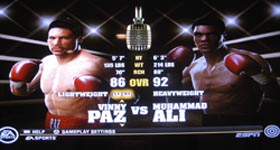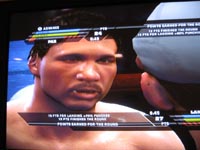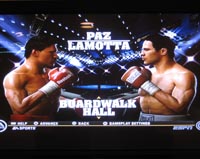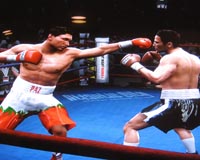 March 31, 2009
Vinny Paz Signs For Sport Kings
Prince Marketing Group, on behalf of 5x World Boxing Champion Vinny Paz, has come to terms with Sport Kings on a licensing deal for a one-year period. Paz will grant his name and likeness over the term and sign a limited number of trading cards. Sport Kings pays tribute to big names from a wide range of athletic pursuits and maintains the integrity of the original release. Each base card features original artwork and the roster includes such stars as baseball's Roberto Clemente and Ted Williams, hockey's Patrick Roy and Rocket Richard, football's Troy Aikman and Bart Starr along with many others that truly rank among the Kings of their respective sports including several Prince Marketing Group clients.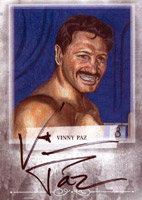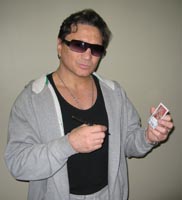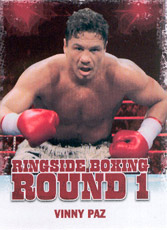 March 01, 2009
Vinny Paz and Smokin' Joe Frazier Hit The Red Carpet
The Pazmanian Devil and Smokin´ Joe were in Tampa, Florida for the Super Bowl and made a rare public appearance the Maxim Magazine 2009 Super Bowl Party.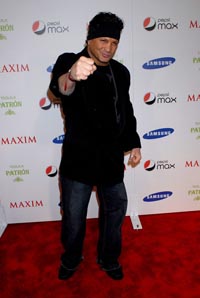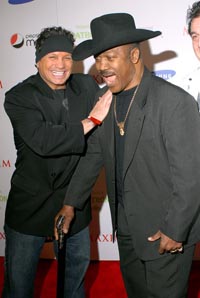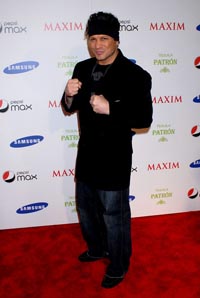 February 01, 2009
Super Bowl Weekend 2009 Vinny Paz Signs Licensing Deal For The Ring Magazine T-Shirt Collection
Prince Marketing Group clients Smokin' Joe Frazier, Vinny Paz and Micky Ward have all agreed to a deal with apparel giant, Affliction. The licensing deal consists of t-shirts with each of their images from their previous Ring Magazine covers. Chuck Zito's father, Al La Barba, and former Welterweight contender will also be featured on the shirts. Each of these shirts can be purchased at all Nordstrom locations across the country.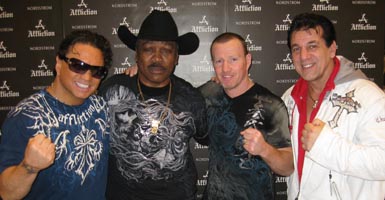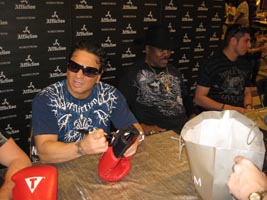 November 05, 2008
Vinny Paz Speaking At The Magna Legal Services Convention
August 19, 2008
Vinny Paz Signs Video Game Licensing Deal
Prince Marketing Group and Electronic Arts have come to terms on a three-year licensing deal for Vinny "The Pazmanian Devil" Paz. The Paz will be one of the boxing legends featured in the video game "Fight Night Round 4". Paz's statement after he signed the deal, " I can't wait to fight "The Pazmanian Devil" vs. "The Raging Bull" but Muhammad Ali vs. Mike Tyson will be pretty cool too!"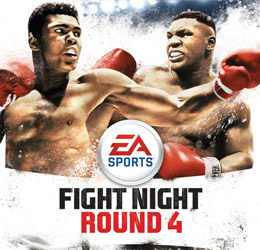 March 31, 2008
Vinny Paz Hanging With Hef
Vinny Paz presented Hugh Hefner with his Headstrong DVD at the Playboy Mansion for the world famous pajama party.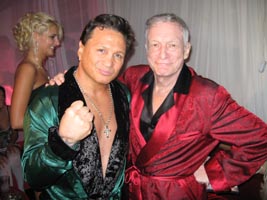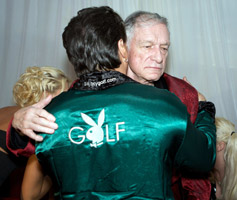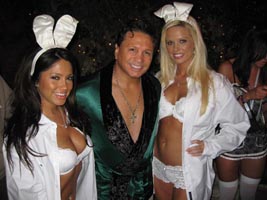 June 09, 2007
Vinny Paz Honors His Friend and Former Ring Rival Roberto Duran
Vinny Paz and his agent Nick Cordasco made a special trip to watch their friend Roberto Duran be inducted into the International Boxing Hall of Fame.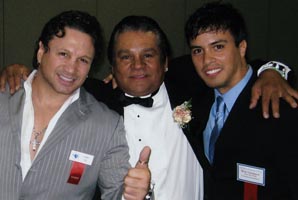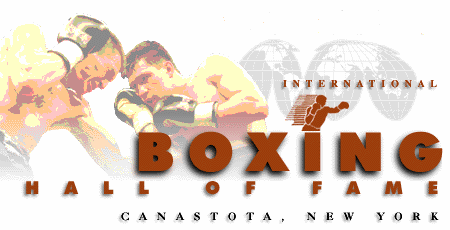 May 05, 2007
Vinny Paz Appearing in New Jersey
The Paz and The Hulkster signed autographs at the Triumph Sports Football Spectacular. Fans came out by the thousands to meet there sports heroes.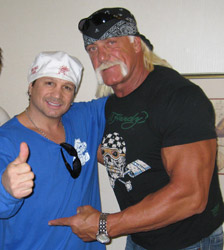 December 20, 2006
Vinny Paz Hits Hollywood
Vinny Paz attended the Rocky Balboa movie premiere at Planted Hollywood in Las Vegas, Nevada.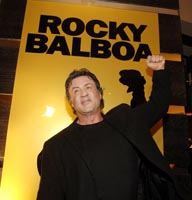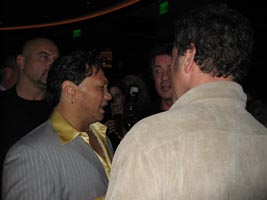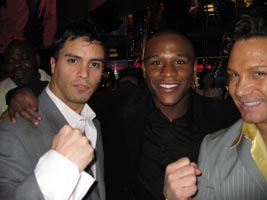 November 17, 2006
The Pazmanian Devil Visits The Raging Bull
Vinny Paz took a ride into New York City to meet boxing legend Jake LaMotta at his home in New York City. The Raging Bull was excited to meet The Pazmanian Devil.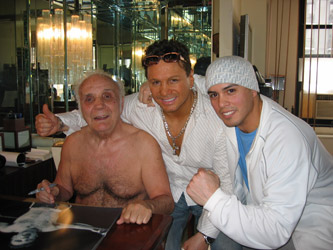 March 27, 2006
The Paz Retires With 50 Wins !
Its a sad day for boxing as one of the most courageous warriors fought his last professional boxing match in front of a sold out audience. Vinny Paz defeated Tocker Pudwill at Foxwoods Resort Casino, live on CN8.